A regular eye examination (or eye test) is important to maintain clear, comfortable vision.  However, it is also a key part of your general health check as many general medical health conditions can affect your eyes.
At EYETECH we tailor each examination to your specific needs and symptoms.  Every examination is under-pinned by the fact that we will aim to understand your visual problems (we call them symptoms).  We will perform examinations to detect medical eye disease and determine your optical prescription.  Finally, we will explain our findings clearly (in easy-to-understand language) and make recommendations most suitable for you.
Our standard adult eye examination involves 3 key stages.
1. Pre-screening
2. Eye Examination
3. Advice
The actual eye test takes place in one of our state-of-the-art consulting rooms.  The entire practice is fully air-conditioned and our medical equipement will be the best you've ever seen.  Here, you will be examined by one of our highly qualified Optometrists.  Relax, this is the time to ask any questions, all our Optometrists are friendly and take pride in delivering a detailed, professional eye examination.
Just read some of our independent reviews to see what so many patients are saying about our professional eyecare.
If you would like to know the detailed break-down of our eye examinations, click here.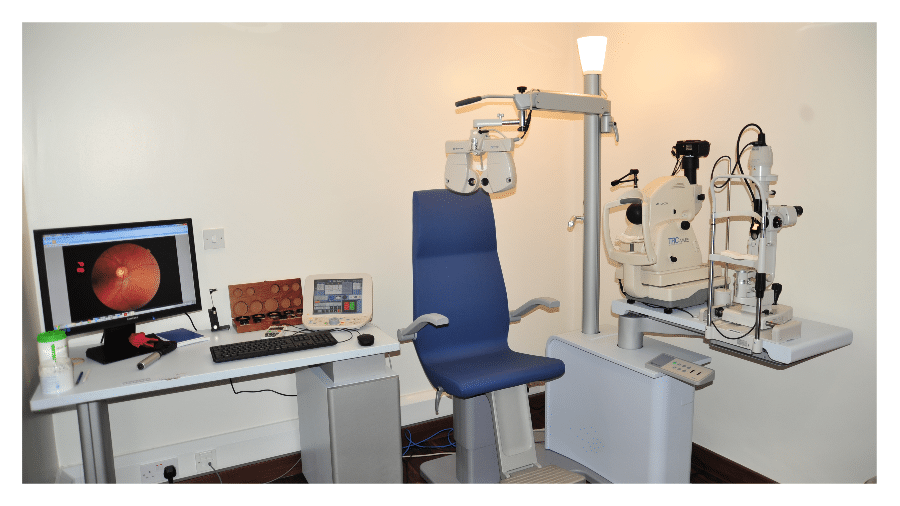 Upgrade to the Premium Eye Examination
The Standard Private eye examination costs £35.  If you are eligible for and NHS examination, there is no charge.  However, the standard private and NHS examinations do not include more in-depth assessments like 3D OCT imaging which is one of the biggest innovations in examination of the back of the eye.  If you would like to upgrade to this examination, it costs only an extra £40.  You can add this when booking through our website by selecting 'Extras' in the booking form.
Book Standard or Premium Examination